How to unblock your outside drain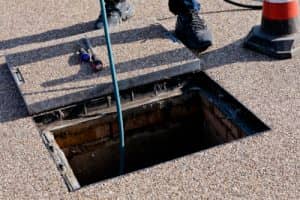 When it comes to unblocking drains within our properties, from sinks to showers, many homeowners can find the confidence to tackle the problem themselves by following a simple guide. However, when the blockage appears outside of our properties, it can often feel like a whole new ball game.
You may have queries flying around your mind such as whether this blockage will require additional work to be removed, or whether you are even allowed to remove the blockage yourself! This month, we are here to answer those frequently asked questions and worries, guiding you through the process.
The rules behind removing external blockages
Firstly, let's cover whether you are able to resolve external blockages yourself. So long as the drain in question is officially on your land, you are able to do whatever you wish to remove the blockage. However, if the drain is off your land, or is shared between you and your neighbours, you will not be allowed to involve yourself in the un-clogging. Instead, you will have to contact your council or a professional plumber who will deal with the issue safely and correctly.
How to unblock your outside drain
There are a series of steps to take when it comes to unblocking your external drain. Let's walk through them together…
Remove the drain cover
Depending on your property's drains, removing the drain cover could involve a simple lift, or you may need to use a screwdriver.
Assess the problem
Once the cover is removed, use a torch to look into the drain. You may find that you can see the blockage, and even make out what it is made up of.
Make a judgement call
Upon assessing the issue, you should be able to make the decision over whether the blockage is something that you feel you could resolve yourself. If you were unable to see the build-up, or it appeared to be made up of tougher elements, you should request the support of a professional plumber with the correct tools. 
Get prepared
When it comes to removing a blockage, there are a selection of tools that we would recommend sourcing. This includes a drainage rod, bucket, stick or set of tongs, and pressure washer. We would also suggest you wear protective and waterproof clothing such as overalls and a pair of rubber gloves that you will be happy to ditch afterwards. We would also recommend wearing a high-quality face mask and protective goggles for your own health and safety.
Break down that build-up
Depending on the size and elements of the blockage you may find that you need to break it down ever so slightly before being able to remove it. Use your stick or set of tongs (or anything else long and easily manoeuvrable) to lightly breakup the matter and place any removable portions into your bucket.
Clear the blockage
Now is time for the drainage rod. It may take some time and patience, but the aim is to get the rod to slide through the build-up. You can then begin to move it around in a clockwise direction to further breakup the blockage. Avoid going anticlockwise, as we can imagine you wouldn't be too keen on the idea of having to reach in and locate the end of your unscrewed drainage rod! If there are any elements of the blockage that you can remove, you should do so with your tongs or stick and place them into the bucket.
Prevent further blockages
Once your blockage has been cleared and water is able to flow freely through your outside drain once more, use your power washer to jet away any additional debris. As well as allowing you to fully clear the blockage, it can also be a great prevention method to deter any build-ups from returning.
If you find that you are unable to remove the blockage yourself, whether you have attempted it or not, get in touch with our team at Bromley Plumbers. As professionals in our field, we provide responsive support to quickly and effectively remove outdoor drain blockages. Our expert knowledge will allow us to restore your drainage back to its original state in no time. Give us a call on 0208 050 2707 or send us an email at info@bromleyplumbersltd.co.uk and we will be happy to offer you our support.