Professional plumbing support in Sydenham
Arrange a call back
"*" indicates required fields
No call out charge or hidden fees
Welcome Bromley Plumbers, south London's premier supplier for expert plumbing services. Whether you need a whole new bathroom or a single washing machine to be installed, we're ready to assist. Sydenham is one of our favourite stomping grounds.
Recommended plumbers
in Sydenham
Bromley Plumbers are renowned for great customer service throughout Sydenham and the
London Borough of Bromley. Our solid reputation, built on serving the local community for 100 years, combined with the most competitive pricing has ensured we have a large and happy
following here. With a Checkatrade rating of 9.7 and 100s of 5* Google reviews, have a look at
what many of our satisfied clients have to say about us:
Local plumber in Sydenham
We've worked in most roads in this neck of the woods. We assist tenants, homeowners, commercial landlords and property developers alike, providing all manner of plumbing services. These can range from contracted building works to fixing burst pipes and unblocking WCs. In our experience, many of the older properties across this part of town have old and antiquated pipework that often requires special care and attention. Our plumbers are very well versed in such challenges and are happy to share their knowledge to get your water supply back up and running.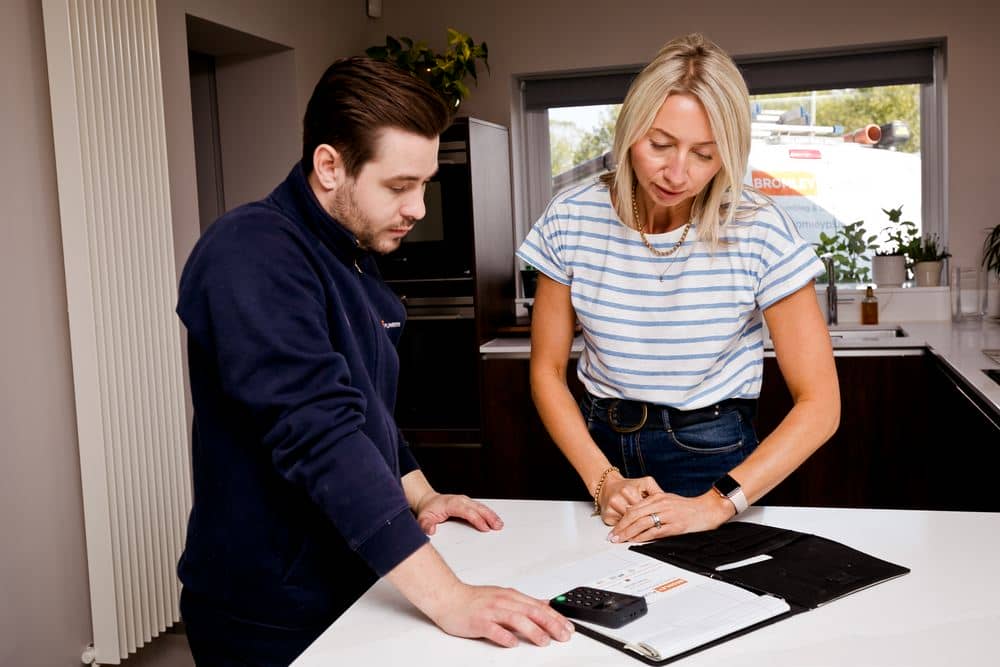 Need professional plumbing assistance in Sydenham?
Call 0208 050 2707
to request a plumber in Sydenham.
Plumbing services in Sydenham
We cover every type of plumbing issue in SE26 from dripping taps to replacing damaged pipes. Take a look at some of the assistance we can provide. As a family-run firm we take great pride in being punctual, always leave your home tidy, and always aim to provide the very best price.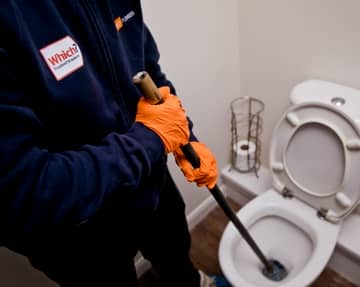 Whether you've got a blocked lavatory or need a brand-new loo fitting, our highly competent plumbers are experienced at disconnecting and reconnecting the pipework. They will roll up their sleeves to get the job done quickly and efficiently. We are confident installing the very latest bathroom designs including smart WCs and toilets with water-saving flushes.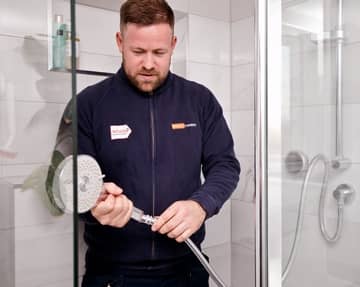 If your old shower has seen better days and you'd like a quote to replace it, we'd love to hear from you. There are many types of showers – manual mixers, electric, thermostat mixers, power showers, digital showers, and smart showers – and we know choosing a new one can be confusing. Please feel free to call our friendly team to discuss your water pressure and what type of water system feeds your property and we'll be pleased to help with practical advice and product recommendations.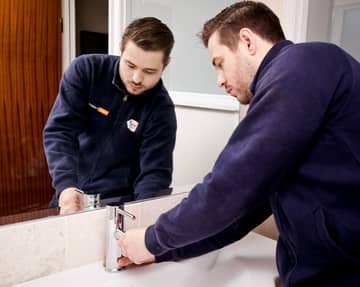 With 100 years' experience under our belt, we know a thing or two about fitting sinks and fixing blocked basins. We appreciate a slow draining kitchen sink or a blocked bathroom basin is hugely frustrating, and often unpleasant. Our drain experts will flush out the pipework and our fitters will soon get your new sink and taps plumbed-in with hot- and cold-water copper feeds.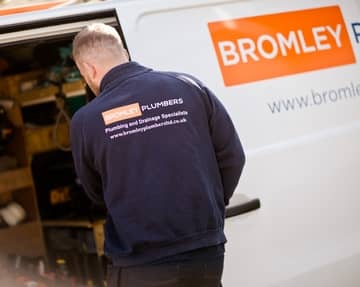 The soil stack – the main vertical pipe on the outside of your house or building – is used to transport the waste from all the other waste pipes in the property. Please call Bromley Plumbers immediately if you're worried about your soil stack and would like to book an inspection or request a quote for a replacement.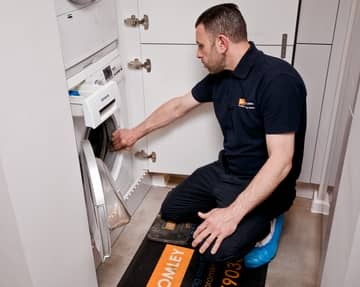 Washing machine installation
We fit a new washing machine nearly every day across Sydenham and can offer WEEE disposal advice if you need to get rid of an old appliance. If it's an installation for a new-build kitchen or utility room and you need us to run pipework – the clean and waste feeds – we'll be happy to quote for laying and connecting the correct pipes.
If your trusty dishwasher has packed-up and you need a new one installing quickly you know who to call. Our plumbers are always happy to connect (and disconnect) dishwashers; simply ensure they're out of their packaging and ready to be plumbed to aid our busy team.
Responsive emergency plumbers
We have a team of emergency plumbers ready to assist. Our rapid response service covers SE26 and the surroundings. If you have a burst pipe, turn off the water supply at the mains (often located under the kitchen sink, or under the stairs). If you have time, take a few photographs for your landlord or insurance company. Do not touch any electrical appliances, switches, or the sockets. We're on our way.
Request a plumber in Sydenham
For all SE26 plumbing needs please call 020 4579 2947 or complete our contact form and we'll respond as quickly as possible.
Expert leak and pipe inspection in Sydenham
In addition to general plumbing, we offer expert drainage assistance across Sydenham. We've invested heavily in state-of-the-art CCTV (closed circuit television) cameras to keep your underground plumbing running smoothly, with minimal fuss and expense to fix blockages.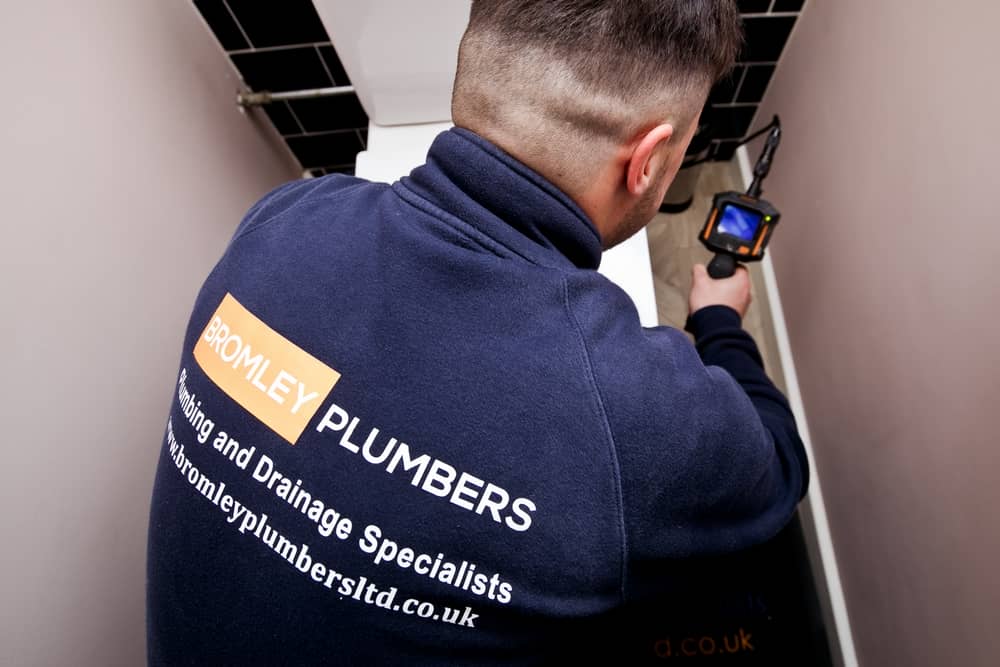 Why choose us as your plumber in Sydenham?
With 100 years' experience, Bromley Plumbers are qualified to assist with all plumbing issues. We have a wealth of local knowledge, especially regarding the foibles of the plumbing system around here. We are a family-run firm that's proud of its heritage with a reputation for friendly service; well documented in the many independent online reviews from happy customers.
Leaks and burst pipes can be expensive, we know. Stay calm. Grab a bucket and old towels to try and stem the flow, whilst calling our rapid response service on 0204 579 2947. Push any expensive furniture and TVs aside and try to rescue treasured belongings and sentimental photographs as a priority. When there's water gushing through your ceiling it's good to know professional help is on its way.
Our expert plumbers are trained to the latest industry guidelines, but more importantly possess bags of common sense and have years of experience. Our team is continuously trained, and we keep abreast of plumbing rules and regulations, ensuring our standards always exceed expectations. Our Checkatrade score is 9.71, which tells its own tale.
Our pricing is clear and simply laid out so it's easy to understand. We don't hide any anything or add on extra costs at the end. By ensuring our quotes are transparent, with everything clearly listed from the outset, you know exactly what you're getting into. You can't say fairer than that.
Do you provide a guarantee?
We're hugely proud of our work and guarantee all jobs for 12 months. Electrical certificates are automatically emailed post project completion. If you would like a hard copy too, please notify the admin team who will be pleased to assist.
What is your response time to plumbing issues?
Our rapid response service is available by calling our dedicated phone line on 0204 579 2947. We aim to get to callers as quickly as possible. It is not possible to give an exact time due to numerous factors, including traffic, availability of labour, and your location from our base or closest responder.
What is the call-out charge for your plumbing services?
We do not have a call out charge. You read that correctly. There's no call out fee even for our emergency service – we know you're under enough stress at this point.
Contact Bromley Plumbers Ltd
We love to hear from new and old customers on 0204 579 2947. Please get in touch to request a quote or to discuss any plumbing issues. We guarantee a quick and friendly response in Sydenham.