Professional plumbing support in Brockley, SE4
Arrange a call back
"*" indicates required fields
No call out charge or hidden fees
Welcome to south London's premier supplier for prompt and expert plumbing services, Bromley Plumbers. If you're experiencing plumbing problems in SE4, at home or in the office, you can rely on our professional team's vast plumbing knowledge, gained over 100 years, to help resolve any issue.
Recommended plumbers
in Brockley, SE4
Bromley Plumbers are renowned for great customer service across Lewisham. Our
professional skills and reputation, combined with helpful advice and competitive quoting
ensures we have a growing band of local clients happy to share their positive reviews with
other Brockley homeowners. With a Checkatrade rating of 9.7 (out of 10) and 100s of
5* Google review, have a look at what our previous clients have said about us:
Local plumber in Brockley, SE4
We've worked in dozens of homes and commercial properties, from Brockley to Brockley Rise, providing all manner of plumbing services from contract works for property developers to fixing burst pipes in private homes. In our experience, many older properties across the borough have antiquated pipework which often requires special attention. All our plumbers are very well versed in the challenges this can raise and are happy to share their tried-and-tested solutions with other local homeowners facing the same problem.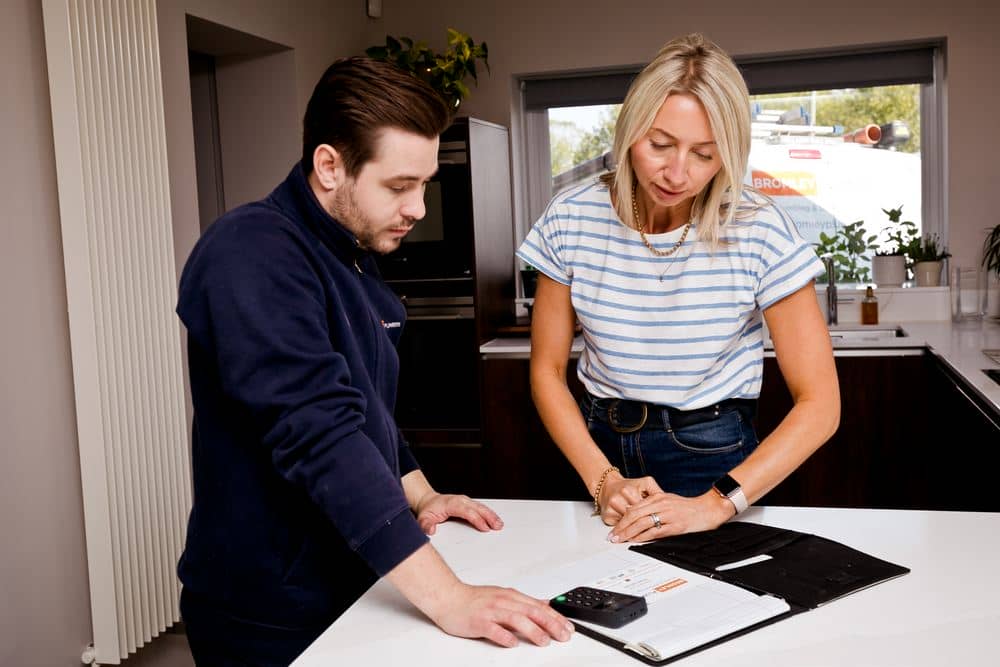 Need professional plumbing assistance in Brockley, SE4?
Call 0208 050 2707
to request a plumber in Brockley, SE4.
Plumbing services in Brockley, SE4
We cover every type of plumbing issue in Brockley, from washing machine installations to underground CCTV drainage explorations. As a family-run firm we pride ourselves on punctuality, on leaving your home tidy, and on providing the best service at the best price.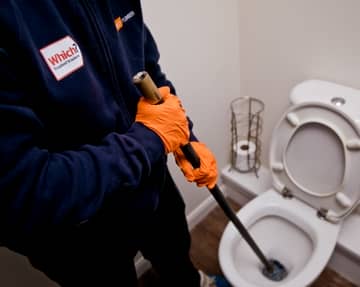 Whether you need a new loo fitting, or your existing WC quickly unblocking, our trusted plumbers will roll up their sleeves and get the job done. We are as confident installing the very latest bathroom designs as we are dealing with refurbishment projects, with many local homeowners choosing to supply upcycled sanitaryware to achieve a classic period look.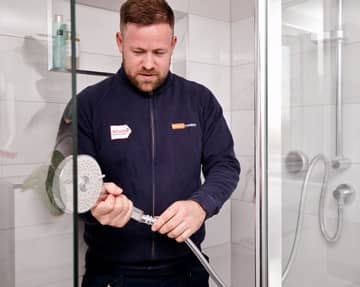 We all know the despair of standing beneath a weak shower. An upgrade to a modern rainforest showerhead or power shower will totally revolutionise your showering ritual. Why not let our expert team provide you with a new hot and invigorating shower today? We can offer suggestions on the best showers on the market, along with descaling treatments to keep London's hardwater flowing freely through your pipes.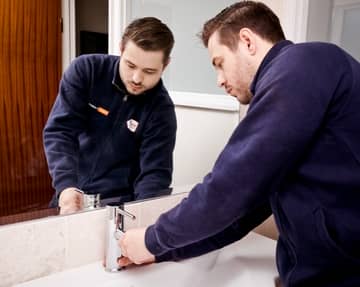 With 55 years' experience under our belt, we know a thing or two about blocked sinks. We understand a slow draining kitchen sink or blocked bathroom basin is hugely frustrating, and often unpleasant. Our drain experts know all the usual causes and are happy to offer handy tips for keeping your U-bends clean, not least never pouring fat or grease down your plugholes into London's Victorian drains.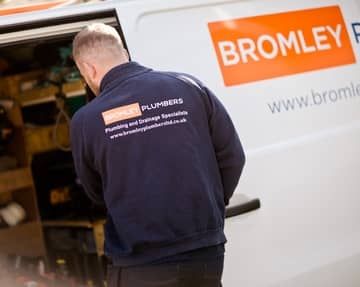 We carefully follow local water company guidelines when connecting to the mains and can provide effective solutions to resolve sewage and foul waste blockages. Please call Bromley Plumbers immediately if you're worried about your soil stack and would like to book an inspection or request a quote to replace it.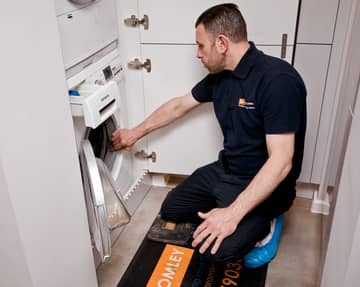 Washing machine installation
We fit dozens of washing machines across Brockley every month – including all the popular brand names – and can offer WEEE disposal advice if you need to get rid of an old appliance. Before our fitter arrives, please ensure your new appliance is out of its packaging and you have the manufacturer's instructions to hand. Your first load will be spinning before we've packed away our tools!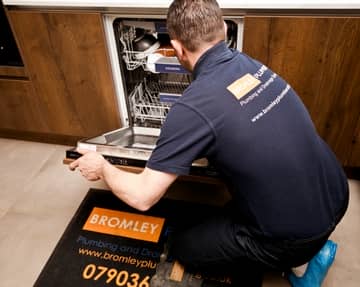 Dishwashers are a cost-effective, water-saving option for many households. These handy home-helps are quick to install but do please book an appointment slot as we get very busy installing dishwashers. Like any other plumbed-in appliance, please remove all the packaging in advance of our engineer arriving for a speedier connection.
Responsive emergency plumbers
We have a team of emergency plumbers on call in Brockley. Our rapid response service aims to provide you with a plumber as swiftly as possible. Help yourself by turning off the water supply at the mains as soon as you notice a problem and take photographs if necessary for your landlord or insurance company. Do not touch any electrical appliances, switches, or the sockets.
Request a plumber in Brockley, SE4
For all your SE4 plumbing needs please call on
0208 050 2707
or return our contact form and we'll be in touch.
Expert leak and pipe inspection in Brockley, SE4
In addition to general plumbing, we offer expert drainage assistance in Brockley. Bromley Plumbers use state of the art underground CCTV (closed circuit television) cameras and rodding to keep your plumbing system running smoothly.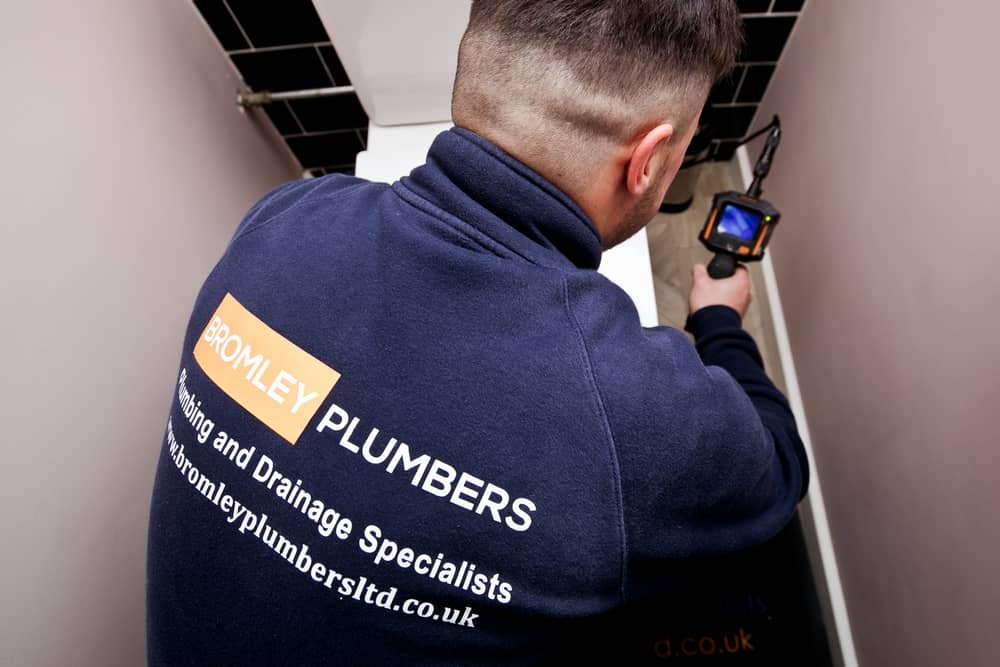 Why choose us as your plumber in Brockley, SE4?
With nearly 100 years' experience, Bromley Plumbers are qualified to assist with all manner of plumbing issues. Our independent company has amassed a wealth of local knowledge, especially regarding the plumbing system in SE4. We are a family-run firm that's proud of its heritage and reputation for friendly service. But there's no need to believe our PR spiel, check the independent online reviews from happy customers.
When you spot a leak stay calm. Grab a bucket, old towels, and containers to try and stem the flow, whilst calling our rapid response service on
0208 050 2707
. When there's water gushing through your ceiling it's good to know help is on its way.
Our expert plumbers are trained to latest industry guidelines, but more importantly possess common sense and years of time-served knowledge. We keep abreast of plumbing rules and regulations, ensuring our standards always exceed industry regs. Plus, our Checkatrade score is 9.71, reflecting the fact that our independent clients are delighted with our services.
Our pricing is clear and simple. We don't hide anything; ensuring all our quotes are transparent with everything clearly listed right from the outset. We tell you what we're going to do. We do it. Then we charge for just that.
Do you provide a guarantee?
Of course. We're very proud of the standard of our work and guarantee all jobs for 12 months. If you need to get back in touch with us, please call the office as soon as possible. Talking directly is far quicker and more effective.
What is your response time to plumbing issues?
Our rapid response service is available by calling our dedicated phone line on
0208 050 2707
. We aim to get to you as quickly as possible, Brockley traffic permitting.
What is the call-out charge for your plumbing services?
Unlike the rest of the plumbing industry, we do not make a callout charge, even for our emergency service.  Our commitment to our customers is second to none.
Contact Bromley Plumbers Ltd
We'd love to hear from you on 0208 050 2707. Get in touch to request a quote or discuss your plumbing issues. We guarantee a quick and friendly response in Brockley.