Professional plumbing support in Crystal Palace
Arrange a call back
"*" indicates required fields
No call out charge or hidden fees
Plumber in Crystal Palace
Welcome to south London's premier supplier for plumbing services, Bromley Plumbers. If you've got issues with your pipes in Crystal Palace give our professional team a call to get your water supply flowing once again. With a vast plumbing knowledge, gained over 100 years, we're ready to help with any issue.
Recommended plumbers
in Crystal Palace
Bromley Plumbers are renowned for great customer service across Crystal Palace, from helping
independent businesses to sorting out local homeowners, our professional skills, reputation,
and helpful demeanour ensures we have a growing band of clients who are happy to share their
positive reviews with other homeowners. With a Checkatrade rating of 9.7 (out of 10) and 100s
of 5* Google reviews, have a read what others say about us:
Local plumber in Crystal Palace
We work in homes and commercial properties and provide all kinds of plumbing services, from contract works for landlords and property developers to fixing a simple dripping tap. In our experience, many of the older properties across Crystal Palace have antiquated pipework which often requires extra attention. Our plumbers are well versed in these challenges and are happy to share their knowledge with other local homeowners facing the same problems. We're the right choice for a swift, straightforward service.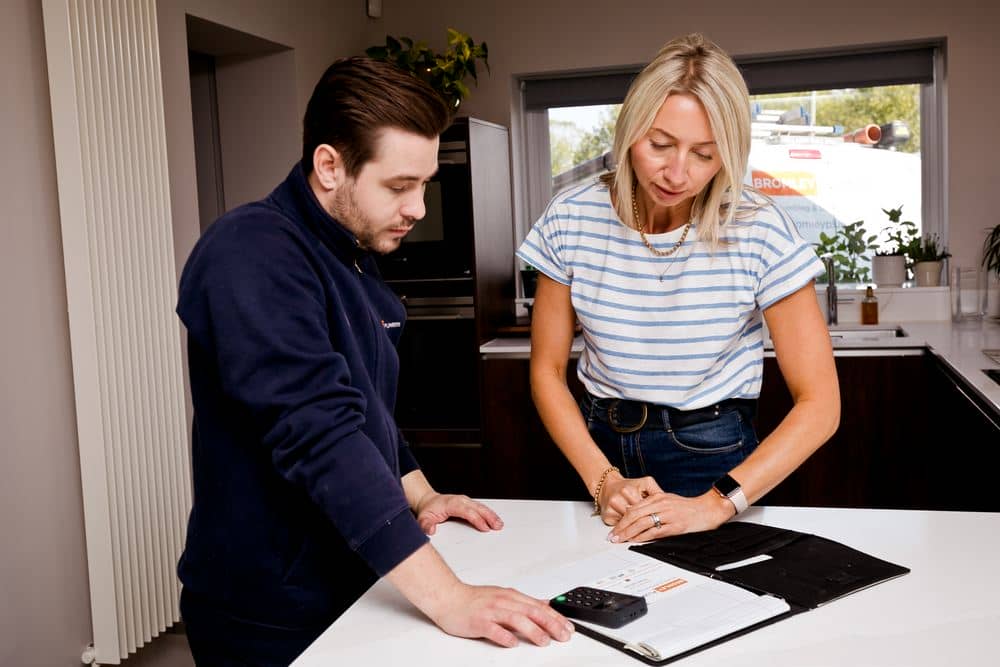 Need professional plumbing assistance in Crystal Palace?
Call 0208 050 2707
to request a plumber in Crystal Palace.
Plumbing services in Crystal Palace
We cover every type of plumbing issue in Crystal Palace, including leaky bathtubs, blocked drains, new washing machine installations, and underground CCTV drainage surveys. As a family-run firm we pride ourselves on punctuality, treating your home with respect and always providing the best service at the best price.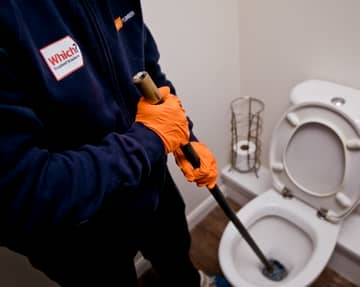 Whether you need a new loo fitting, or your guest toilet unblocking, our trusted plumbers will get stuck in and get the job done. We specialise in the complete installation of new bathrooms but are equally at home organising a refurbishment to refresh an old bathroom or switch up an old WC for a newer model.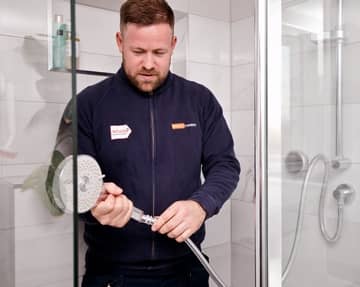 We all know the frustration of standing beneath a trickling shower, but upgrading to a modern power shower is within your power! Let our expert team provide you with a new hot and invigorating shower today and you'll wonder why you left it so long. Our experts are happy to offer suggestions on the best showers on the market, along with tips for descaling treatments that will help to keep London's hardwater flowing freely through your pipes.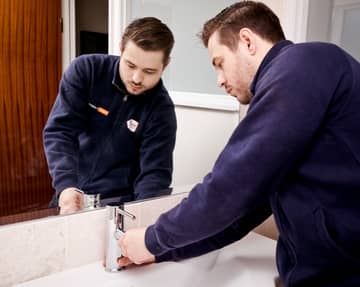 With 100 years' experience, we know all there is to know about blocked sinks. We appreciate how frustrating a slow draining kitchen sink or blocked bathroom basin can be, as well as often being darn unpleasant. Our experts have specialist gear to clear your pipes and are always happy to provide tips for keeping those U-bends clean and fresh.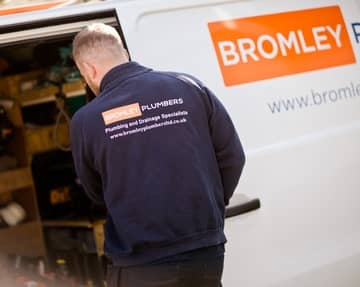 Our highly trained engineers always follow local water company guidelines when connecting to the mains and know the rules and regs regarding sewage and foul waste blockages. Please call Bromley Plumbers today if you're worried about your soil stack and would like to book a survey or request a replacement quote.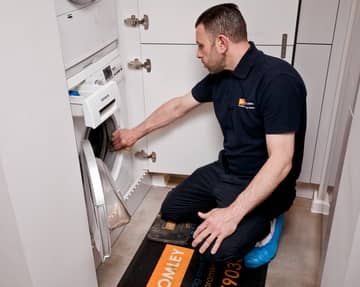 Washing machine installation
We fit all makes of washing machines across, including popular brand names. We're also fully onboard with WEEE disposal advice to help get rid of old appliances. Before we arrive, please ensure your new appliance has been unpacked and the space you want it fitting is clear and level. Your first load of whites will be underway before we've packed away.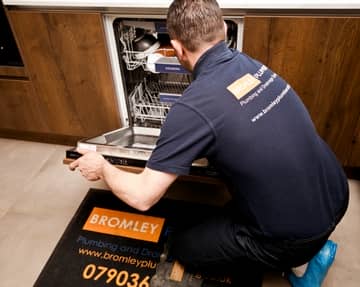 Dishwashers are the No. 1 appliance for busy households. Cost-efficient when it comes to saving water, these handy gadgets save hours of time, allowing users to get on with more enjoyable pursuits once the dishes are loaded.
Responsive emergency plumbers
We have a team of emergency plumbers on call across Crystal Palace. We offer a rapid response service in a bid to provide you with a plumber as swiftly as possible. If you spring a leak, turn off the water supply at the mains and take photographs if necessary for your landlord or insurance company. Never touch electrical appliances, switches, or the sockets. In the meantime, we'll be on our way!
Request a plumber in Crystal Palace
For all your Crystal Palace plumbing needs please call on 0208 050 2707 or return our contact form and we'll be in touch.
Expert leak and pipe inspection in Crystal Palace
In addition to a wide range of general plumbing services, we also offer drainage assistance in Crystal Palace. Bromley Plumbers utilise state-of-the-art underground CCTV (closed circuit television) cameras to diagnose issues and keep your plumbing system running smoothly.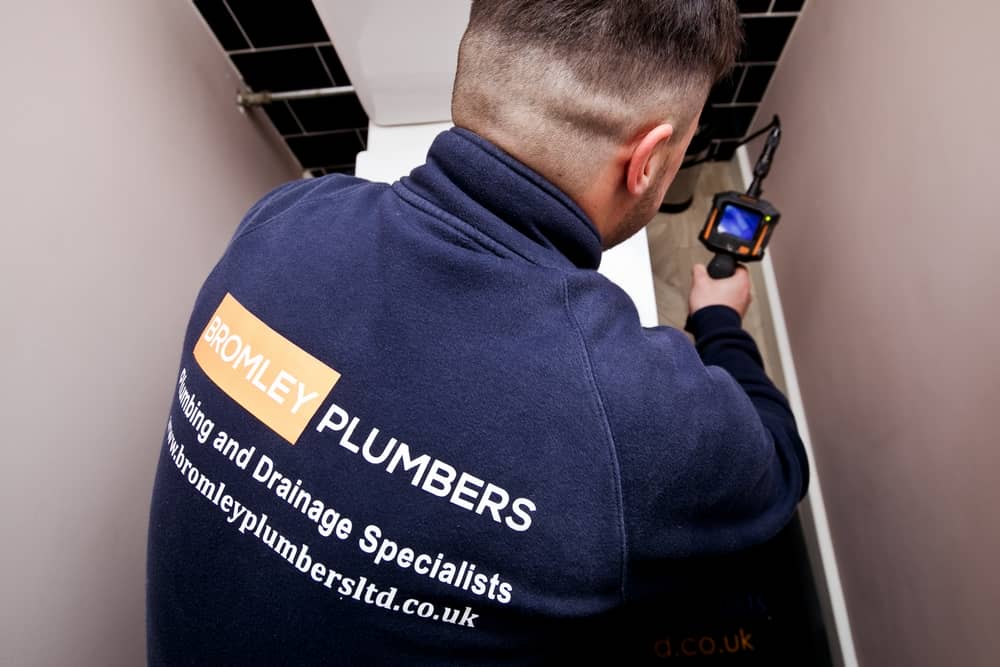 Why choose us as your plumber in Crystal Palace?
With over half a century of experience, Bromley Plumbers are qualified to assist with all manner of plumbing issues. Our friendly independent company also has a wealth of local knowledge, especially regarding the plumbing system in this hilly part of south-east London. As a family-run firm, we're proud of our heritage and reputation. But there's no need to believe us, check out all the independent online reviews from happy customers.
If you spot a leak, try and stay calm. Grab buckets or bowls and old towels to help stem the flow, while calling our rapid response service on 0204 579 2947. When there's a river gushing through your lounge it's good to know help is on its way.
Our expert plumbers undergo continuous training and are up to date with industry guidelines, but more importantly our team possess common sense and years of knowledge, so nothing fazes us. We're on top of latest plumbing rules, ensuring our standards always exceed industry regulations. With a Checkatrade score of 9.71 our independent client rating speaks volumes.
We believe pricing should be clear and simple. We don't suddenly include a load of hidden extras on the final invoice, preferring to issue a detailed and transparent quote with everything clearly listed so you know what to expect. We tell you what we're going to do. We do it. Then we charge for it. Simples.
Do you provide a guarantee?
Yes. We're confident of the standard of our work and guarantee all jobs for 12 months. If you need to get in touch, please call. Talking directly is far quicker and often more effective.
What is your response time to plumbing issues?
A rapid response service is available using our dedicated phone number: 0208 050 2707. We'll try our best to get to you as quickly as possible, Crystal Palace traffic permitting.
What is the call-out charge for your plumbing services?
Unlike most of our competitors, we do not make a callout charge, even for our emergency service.  Commitment to our customers is our top priority, and we know both new and repeat clients really appreciate our transparent pricing.
Contact Bromley Plumbers Ltd
We'd love to hear from you on 0204 579 2947. Please get in touch to request a quote or discuss your plumbing woes. We guarantee a quick and friendly response across all the ups and downs of Crystal Palace.