Rapid support for blocked drains in Lee
Arrange a call back
"*" indicates required fields
No call-out fee or concealed charges!
When confronting blocked drains in Lee, our team reigns supreme. A seasoned family-run venture, we take pride in our adept drainage engineers. They excel at pinpointing and remedying local drainage issues. With 100+ years of combined expertise, expect them to provide enduring solutions to any drainage issues impacting your Lee property. Our team's prowess stems from their experience working in a diverse range of properties, equipping us to conquer any challenge. Contact our dedicated drainage engineers on
0208 050 2707
for a rapid, reliable response.
Recommended drainage
engineers in Lee
We are your top option, guaranteeing unmatched simplicity and excellent outcomes for residents when it comes to clearing blocked drains in Lee. As shown by the positive feedback we receive, we deliver excellence while minimising disruptions. Browse our reviews to get a sense of how easy it is to work with us.
We're masters of Lee's complex drainage systems, distinguished by our unmatched expertise rooted in practical experience. Whether it's Victorian properties or modern structures, our in-depth knowledge spans property types and their evolving drainage systems, guaranteeing effective solutions for your unique needs.
Lee residents, rest assured. We'll tackle your drainage problems with precision. Our dedication to top-notch work has forged a reputation we stand proud of. Choose quality – choose us.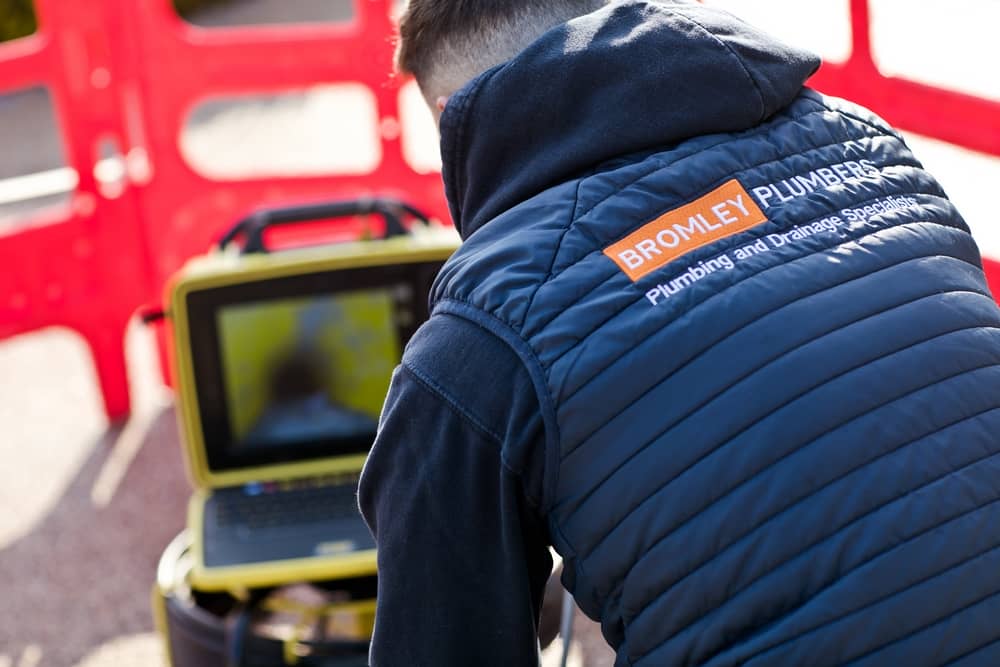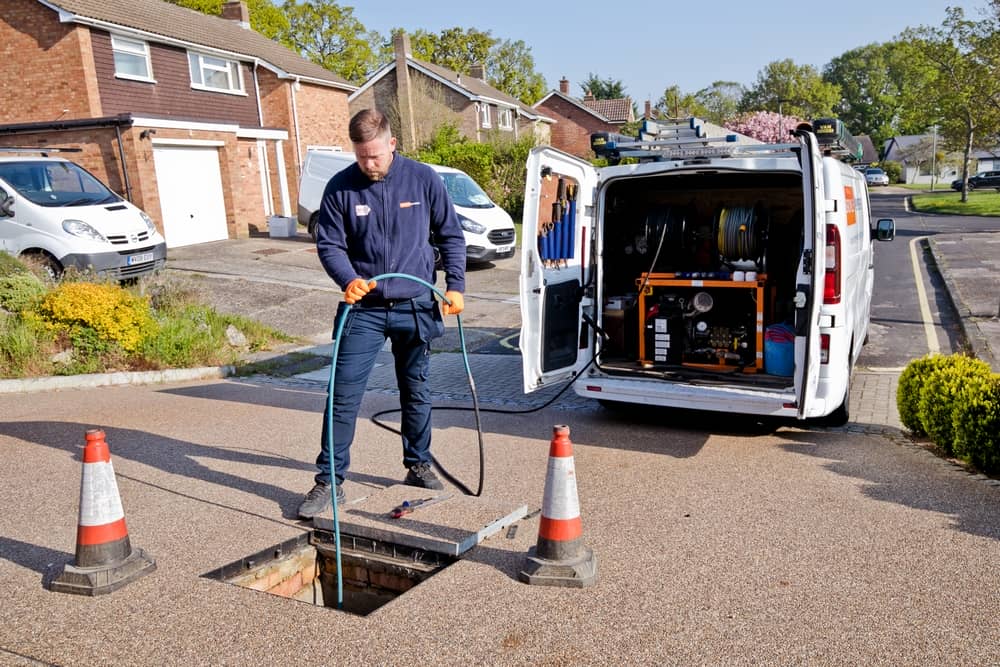 Receive peace of mind with one of our comprehensive CCTV drain surveys. Armed with cutting-edge tech, we delve deep into your property's drainage, manoeuvering a specialist camera through the pipes. This meticulous process unveils damage, roots, blockages, and even rodent intrusions. You'll then be given a detailed CCTV survey report that reflects a professional's assessment of your drain's integrity, cleanliness, and efficiency. Rapid data gathering lets us swiftly plot the best plan, sidestepping lengthy diagnostics.
Curious about our process?
Dial 0208 050 2707
to learn more about our process at Bromley Plumbers Ltd.
Our team of skilled drainage engineers stands ready to conquer any drain challenge. From repairs to unblocking, we handle it all, ensuring a hassle-free experience. Trust us for top-notch assistance with your drainage system issues in Lee. We prioritise your satisfaction, leaving you with a seamless, trouble-free system.
Don't let blocked sinks disrupt your routine. Our experts swiftly eliminate obstructions, restoring kitchen and bathroom functionality in no time.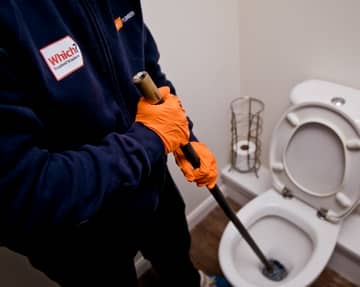 Blocked toilets are no match for us. We understand the urgency, responding promptly to minimise inconvenience and swiftly resolve the issue.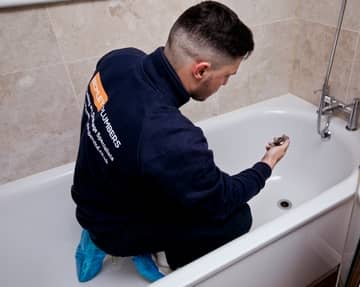 Taming overflowing drains
Overflowing drains wreak havoc – we're here to safeguard your property. With precision, we identify and fix blockages, preventing further damage.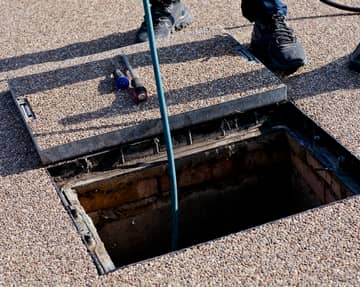 Stubborn blockages meet their match with our high-pressure jetting unit. We restore free-flowing drains, eradicating issues swiftly.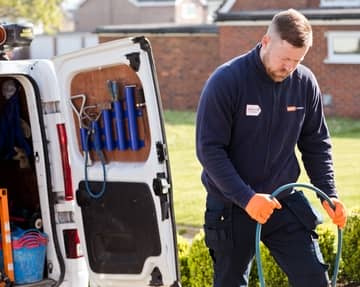 Prevent issues before they escalate. Our professional cleaning service keeps drains in optimal condition, avoiding potential blockages and maintaining functionality.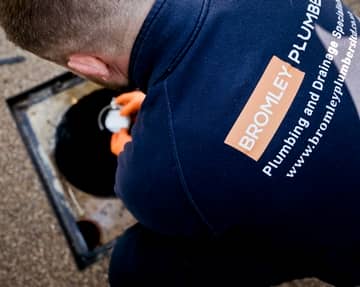 Spot signs of rodents with CCTV surveys. We'll then be able to address the issues comprehensively, even installing specialist rat blockers for peace of mind and secure drainage.
Request a drainage engineer in Lee
Ready to conquer that blocked drain issue? Dial
0208 050 2707
or complete our form to schedule a visit from a Lee-based drainage engineer. Relief is just a call away!
Why choose us as your drainage company in Lee?
For dynamic solutions to your drainage woes, look no further. Our team boasts an impressive 100+ years of collective experience, ensuring swift drain unblocking and restoring your property's drainage to prime condition.
Drainage problems stressing you out? We get it. Our team is always at the ready, offering swift assistance for blocked drains in Lee. Minimise disruptions with our responsive approach, guaranteeing a timely solution.
With intricate knowledge of drainage systems and their common pitfalls, our team diagnoses issues with pinpoint precision. Count on us for speedy, lasting solutions that conquer any drain dilemma.
Simplicity is our mantra. Our fixed price guarantee ensures accurate quotes, while our commitment to unmatched value means no hidden charges or call-out fees. We're transparent and proud of it!
Frequently asked drainage questions in Lee
Do your drain engineers in Lee provide a guarantee?
You're in luck! Our services come with a solid 12-month guarantee, showcasing our confidence in quality. Rest easy, knowing you'll be covered by our long-term assurance and you'll experience a warm, dependable service on the day.
What is your response time to drainage issues?
With a same-day service and swift action during drainage emergencies, we're your reliable go-to team. Reach us hassle-free at
0208 050 2707
to connect with our skilled drainage engineers and address your concerns.
Is there a call out charge for your drainage services?
Great news: no call-out charges! Transparency and customer satisfaction drive us. Hidden fees? Not here. Lee residents can trust our quotes to offer true value without surprises.
Contact Bromley Plumbers Ltd
Ready for swift solutions? Call 0208 050 2707 to welcome one of our expert drainage engineers in Lee to your home. We're here for blocked drains and all your drainage needs.