How to shut off your water supply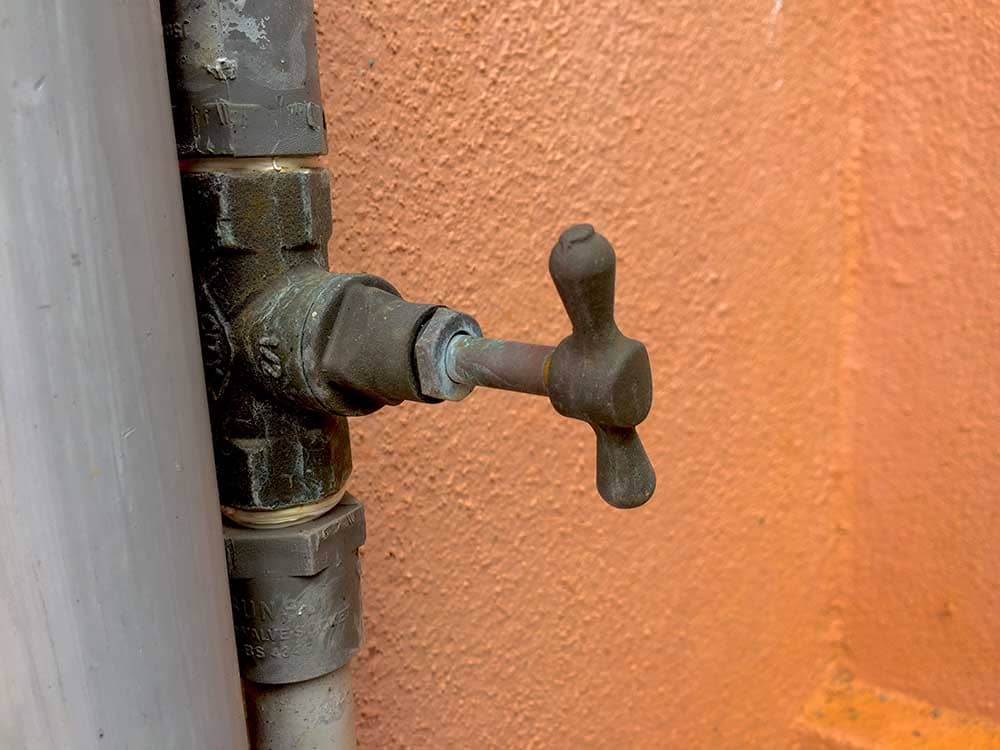 Essential knowledge for every homeowner, and tenant, is how to shut off the water supply at home. The action might be necessary in various scenarios, from tackling a refurbishment project to dealing with an unexpected plumbing issue. Our handy guide walks you through the process in clear and easy-to-understand terms.
Identify your stopcock
The first step to turning off the water is locating the stopcock or stop valve. This is typically a brass valve with a round wheel or a flat handle and is the control point for the water supply entering your home.
In most UK homes, the stopcock can be found in the kitchen, usually under the sink. In others, it may be in a downstairs bathroom, utility room, or even in the garage. If your house has a cellar or basement, the stopcock might be there. In more modern properties, particularly flats, it could be in a service cupboard. Familiarising yourself with the stopcock's location will pay dividends in a crisis, or whenever you need to take swift action, so it's worth finding it in advance.
Turn off the stopcock
Once you have identified the stopcock, you need to turn it off. To do this, turn the valve clockwise (right). It could be stiff if it hasn't been turned for a while, so you might need to apply a bit of pressure. However, be cautious not to apply too much force, which could damage the valve.
If it's particularly hard to turn, it can be helpful to use a pair of pliers or a wrench but wrap the jaws with a piece of cloth first to protect the valve from damage.
Confirm the water is off
After turning off the stopcock, check the water supply has indeed been shut off. You can do this by simply turning on a cold tap. Start with the tap nearest to the stopcock and then open the others one by one. If the stopcock has been successfully turned off, the flow of water from all the taps should stop.  Remember there may be some residual water in the pipes, but this will soon stop flowing.
The hot water should not be immediately affected as it's likely stored in a hot water cylinder, which will eventually run out after the cold-water supply is shut off.
In case of difficulty
If you encounter any difficulties locating your stopcock or it's too stiff to turn off, you should seek assistance from a professional plumber. We have the tools and the experience to handle such situations without causing any damage.
Check your external stop tap
If your internal stopcock is not accessible or not working, you might need to use the external stop tap. This is typically located near the boundary of your property and can usually be found in the street under a small metal cover labelled 'water'. You may need a stopcock key to turn this off. Remember, this controls the water supply to your entire property – and in some flats, detached houses, and terraces it could also affect your neighbours – so use it as a last resort and turn it back on as soon as you can.
Preventive measures
As a precaution, it's advisable to periodically turn your stopcock on and off to prevent it from seizing up. Also, ensure every member of the household knows its location and how to operate in case of emergencies.
Moreover, consider labelling the stopcock and the water shut-off procedure, especially if you frequently have guests or if the property is rented and you are not always there. This simple step could prevent a minor leak from becoming a major flood.
In conclusion, knowing how to shut off the water supply is a critical skill. It empowers you to act swiftly during plumbing emergencies, potentially saving your home from severe water damage and costly repairs. Remember, while this guide provides a good overview, if you feel uncertain or uncomfortable performing these tasks, always seek help from a professional. When it comes to your home's safety, it's always better to be safe than sorry.