How to fix a dripping mixer tap at home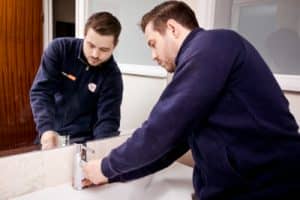 Leaking or dripping taps can not only become a nuisance at home but can also lead to a great waste in water and money if not mended punctually. Whilst some fixes can be simple and undertaken at home with the correct tools, we would always advise calling for a professional If you feel at all out of your depth. This month, we walk through the reasons why you may be faced with a leaking tap, and how to repair the fault with of the most popular tap types here in the UK – a mixer tap.
Why is my tap dripping?
There can be a collection of causes for a dripping tap, and sometimes without professional assessment the cause may be unknown. To give you a greater idea as to just why your tap is dripping, we have summarised the most common faults. Remember, however, you should always consult with a professional if you are unsure of the cause, as working to fix an alternate issue could lead to more problems.
What can cause a dripping tap?
Damaged pipes
You could find that your tap is leaking due to a damaged pipe. This could include anything from cracks to corrosion. These changes in the pipes structure can lead to a shift in water pressure, which then results in a dripping tap. However, it is worth noting that a damaged pipe could lead to other faults within your plumbing, so it is important to keep an eye out, and call for a professional repair before things get much worse.
Faulty valve seat
When the tap is switched off, the washer closes up against the valve seat, which works to form a watertight seal. With pressure almost always being applied to the valve seat, it is no surprise that occasionally they fall vulnerable to damage.
Excessive water pressure
High water pressure can impact the ability of water to flow effectively through your pipes and out of your tap. This can result in a build-up of water which, struggling to locate an outlet, will begin to start dripping through your tap.
What you'll need to fix your dripping tap
A screwdriver, accompanied with multiple head attachments
Any required replacement parts
How to fix a dripping mixer tap
As a popular tap choice installed in kitchens and bathrooms across the UK, we have created a simple guide in how to fix a dripping mixer tap. Whilst they can be easy to repair at home, you should always call for the help of a professional if you lack confidence or knowledge of the root of the problem. This will prevent matters from getting worse.
Cut off your water supply
Before attempting to mend your dripping tap, you should switch off your water supply to prevent the mess of a wildly spraying tap.
Remove the handles
Use a flat-headed screwdriver to remove the handles from your tap.
Remove the stem
Utilise lubricant and your adjustable spanner to unscrew and remove the stem of your tap with ease. Dependant on the type of faucet within your mixer tap, yours may pull straight out, or require twisting to be removed.
Identify any faults
Assess your tap for signs of damage. Whilst you will be unable to identify a cracked pipe or increased water pressure from this location, you may find here that a loosened washer or damaged O-ring could be causing the dripping of your tap. Using your replacement parts, swap the damaged parts for the new ones, making sure that they are an exact fit.
Reassemble your mixer tap
Carefully reassemble your mixer tap until everything is fitted back to its original place. Test that everything works as it should before turning the water back on and testing that the water flows whilst on and doesn't drip once off.
How to fix a dripping cartridge faucet
Not all taps across the UK have washers, and instead consist of cartridges. The most common cause of a leaky or dripping tap with a cartridge faucet could be a build-up of limescale on the O-rings, or wear and tear to the cartridge itself.
Here is a simple guide on the ways in which you could locate and repair the fault that is causing your dripping tap. As always, if you aren't confident carrying out the below steps, or find that you are still unsure of the cause of your leaking tap, you should reach out to a professional for expert assistance.
Remove the head of your tap by removing the handle screw and tilting the handle backwards on itself.
If your cartridge is being held in place by a retaining clip, use a set of pliers to carefully remove it. This will allow you to pull the cartridge straight up and out of the tap.
Once you are able to remove the spout of your tap, you will see the O-rings. Carefully remove these before assessing their condition. If you approve of their form, coat them in a non-toxic lubricant or plumbing grease, ensuring they are ready to be replaced after the next step.
You may find at this step that your cartridge is the cause of your leaking tap. Before returning it to its original form, match your replacement cartridge to the length of the existing one, before re-attaching the components of your tap in the reverse order of removal.
If you find that the fault of your tap has not been resolved, you should contract a professional for their advice and support.
At Bromley Plumbers, our team of experts are on hand to provide you with guidance, advice and assistance in both general and emergency plumbing and drainage support. For any enquiries or additional information, get in touch by emailing info@bromleyplumbersltd.co.uk or calling 0208 050 2707.