Shower leaks: What are the signs, causes and fixes?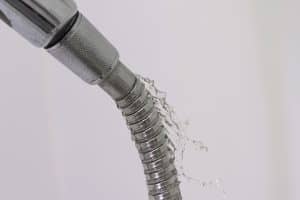 Annoyingly for homeowners across the country, a leaking shower isn't uncommon. Whilst fixes can often be easily achieved, locating the faulty area could be the challenge. If you do notice that your shower is leaking, you should take the time to locate the area and repair it successfully to prevent damage to your home from occurring. Acting quickly will be crucial in saving on costs and limiting damage. This month, we have created a guide into the signs of a leaky shower, the common causes and the most reliable fixes to leave your home safe and dry. 
What are the signs of a leaking shower?
A leaking shower will often leave visible clues, allowing you to notice that there is an issue – so long as you know what to look for. Those clues will likely be:
The presence of mould or mildew in the corners of your shower or bath, close to where the shower is located. This is because, with a near-constant stream of water droplets, the walls find it had to dry and your bathroom becomes a damp environment, encouraging the growth of mould or mildew.
The tiles around your shower could begin to deteriorate. A build-up of water, even when the shower is turned off, can lead to the adhesive that holds your tiles to the wall to loosen up, leading to the movement or complete separation of your tiles.
You find stains on your walls or floor of your bathroom, or even on the ceiling of the room below, signalling that water is gathering in a location that it shouldn't, and therefore is struggling to dry. This could lead to property damage if untreated.
What are the common causes of a leaking shower?
There are a number of reasons as to why your shower could be leaking. These include:
A clogged or leaky showerhead
Faulty or worn seals
Cracks in your tiles or
Cracks in your shower tray
What are the most reliable fixes for a leaking shower?
Dependant on the cause of your leaking shower, various fixes will need to be undertaken. Below, we run through the fixes for each of the causes we have mentioned above.
A clogged or leaky showerhead
If your showerhead is clogged, you'll notice dripping occurring whilst your shower is switched off. This will most likely be due to mineral deposits, and a combination of vinegar and baking soda could be enough to remove them.
A faulty seal on your showerhead
Another reason why your shower head could be leaking is because the washers and O-rings around your showerhead have worn down naturally over an extended period of time, The simplest fix for this cause is to replace your showerhead. Most showerheads can be removed and replaced by unscrewing and re-screwing.
A leak in the wall
A simple regrout could be all it takes to prevent leaks through the walls of your shower. Take a look at the current grouting between the tiles, and run over any spots which appear to be sparse, due to chipping or complete disappearance.
A leak from your shower tray
Spotting a leak in the cleaning of the room below our bathroom could signal a leak coming from your shower tray. This could be the result of a liner or pan that is incorrectly installed, or has become damaged over time, and it would be best to call a professional to ensure that the repair is sufficient enough to prevent further leaks, and costly damage to your home.
When you should consult a professional
Some shower leaks are simpler than others to locate and fix, and others may require the assistance of a professional. If the fault in your shower seems a task too large or complex, call for the help of an expert before attempting it yourself, and potentially causing further damage. Here at Bromley Plumbers, our team are on hand for your general and emergency plumbing needs, as well as drainage support. Give us a call on 0204 579 2393 or send us an email at info@bromleyplumbersltd.co.uk to find out more about our services, or to request a visit from our team.