Avoid a plumbing disaster at Christmas with our top tips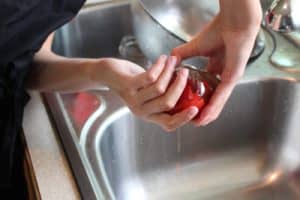 Christmas time is approaching, and with so much to plan, purchase, and prepare, minds will likely be racing from one thought to another. The pressure to host the perfect Christmas is something felt by many of us, and we know ourselves that an unexpected plumbing problem would do nothing to benefit your festivities. To provide you with the greatest odds of a well-functioning plumbing system this Christmas, we are sharing our top five tips with you.
1. Keep unflushables away from your toilet
Being a host during the Christmas period can lead to a busy home, and during this time it could be worth refreshing the rules of flushing to your guests. In short, toilet paper should be the only thing flushed down your loo. Cotton pads, sanitary items, and make-up wipes are just a few examples of items that are often flushed away for quick and simple disposal, often without much thought. However, these are the main culprits of a blocked pipe and could lead to a visit from your plumber.
2. Don't pour fat down your plughole
Cooking the Christmas dinner can be a chore, and shortcuts are always welcome in our eyes. However, don't let this be the disposal of fats down the plughole! Whilst this can be effective for fast removal from your kitchen, it won't stay away for long, eventually leading to additional problems which may be costly. Whilst hot, fat can appear as a liquid, but as it begins to cool it will solidify in your pipes, leading to buildups and blockages. Instead, pour any of your fats into a container and leave to cool and harden before emptying it into the bin.
3. Clear your plates properly
Clearing up after the Christmas dinner can be a task which is dreaded. With hope, many of the plates will be found empty, but there will be the odd few which hold leftovers, from bones to scraps of meat. Be sure to empty these properly into the bin, as leaving your dishes with food remains can lead to a buildup in either your plughole or dishwasher, and cleaning soggy remains from your drains is a much worse job!
4. Insulate your pipes
The cold weather that comes along after Christmas is something which shocks us all each year, but this time around, with many of us limiting the use of our central heating systems, we would recommend that you go into the midst of winter with additional preparation. Insulating your pipes can prevent any freezing which could lead to a larger problem, such as no flowing water, or bust pipes. Pipe insulation, available in the form of a foam tube, can be purchased from many hardware stores and even online shopping sites, such as Amazon. Ensure you choose the right size for the best level of insulation.
5, Be in the know about your plumbing
Knowing your plumbing can be vital, especially when an unprecedented problem arises. Factors such as knowing where to switch your water off from, and the number to call for your emergency plumbers can make all the difference when preventing damage if a fault was to occur.
Here at Bromley Plumbers, we are on hand whenever you may need us. From scheduled plumbing works to locating and resolving your emergency faults, you needn't let your plumbing put a stop to your festivities. Get in touch with our helpful team by giving us a call on 0208 050 2707 or sending us an email at info@bromleyplumbersltd.co.uk.