How to check for bathroom leaks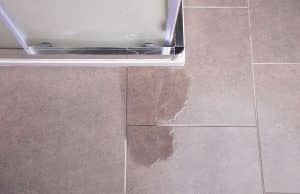 A stain on your bathroom ceiling or in the room directly below suggests there is a hidden leak that needs to be repaired. If there is a leak in the bathroom at your property it can be incredibly frustrating, especially if you don't know exactly where it is. Find out more about bathroom leakage and how to locate it in your home.
You should check the seals around your shower to ensure that there is no leak. If the shower is leaking, it can cause damage to the flooring and paintwork in your bathroom. Make sure there are no gaps where the shower tray meets the floor, and that the shower doors and rubber seals are in a suitable condition. Plus, you should check to see whether there is a leak around the plug.
Look over your bathtub to check whether there are any leaks. Any damaged seals or other gaps that have appeared could be the cause of a leak. Around the bathtub plug is one of the most common places for a leak to form in your bathroom, so it is a good idea to have a look there. You can put a little bit of water in the bathtub and check back an hour or so later to see whether the water level has dropped, just make sure that the plug stopper is not broken first.
Certain types of flooring, such as vinyl, are prone to rotting and leaking. Tiles are also susceptible to leaking, perhaps due to a crack or other damage that has been sustained. If there are mouldy tiles in your bathroom then there may be a gap in the grouting or silicon that is causing a leak.
The pipe joints and pipes are common places for sink leaks to be found. If water runs down a pipe onto the floorboards it can cause them to rot over time. The drain in your sink is another place to check for a leak, and any puddles or excess water at the bottom of the basin is a clear sign that there is a leak.
The majority of toilet leaks occur between the toilet and the waste pipe. If this is the case then water will leak every time the toilet is flushed, so it is important that a solution is found quickly. Another potential cause of a leak is if the flange seal is broken, so make sure that your toilet is secure and doesn't move when you sit on it.
Damaged seals and silicon areas around taps can allow water to leak. If water is seeping through, it can cause damage to the area below and result in repairs being necessary.
Trust the experts
While you can identify some leaks in your bathroom, there are many that will be concealed. If there is a leak in the pipework behind your walls, we can help. No matter where the leak is, our specialist plumbers will come and provide a reliable bathroom leak repair service. Here at Bromley Plumbers, we take pride in providing high-quality plumbing services. Give us a call on 0208 050 2707 to discuss your requirements with an expert.