How to prevent rodents in drains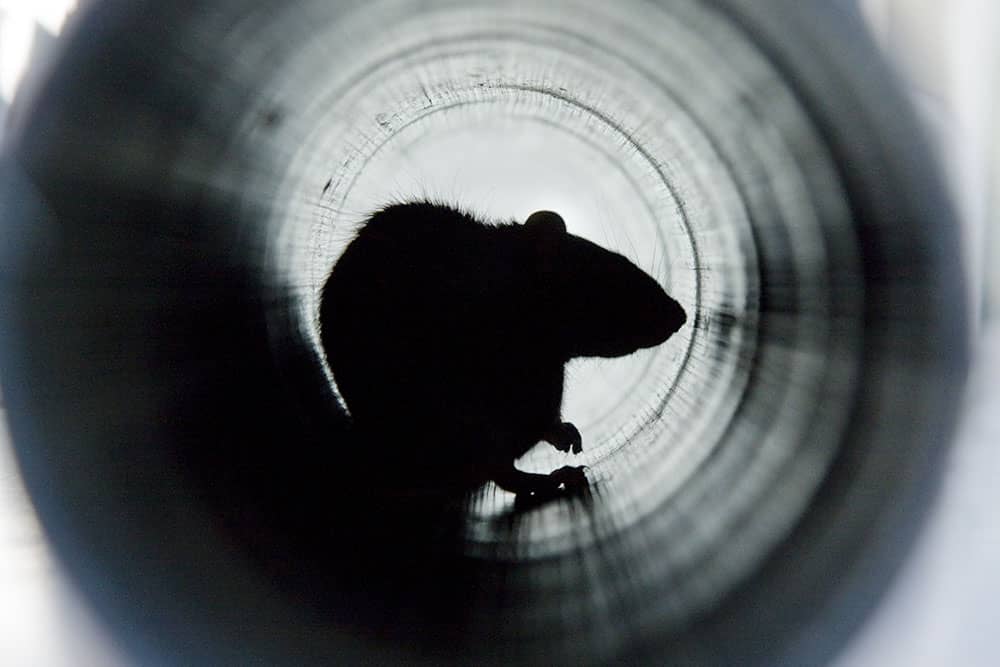 Rodents in drains can be a nuisance for homeowners and businesses alike. These small creatures are attracted to drains due to the availability of food, water, and shelter. Not only can they cause damage to your plumbing system, but they also pose health risks. Read on to understand why rodents are attracted to drains, the problems they can cause, and how to prevent them.
Why are rodents attracted to drains?
Although we think of drainage system under our properties as an unpleasant place, there are several reasons why rodents are naturally drawn to this pipework:
Food sources

Drains often accumulate food particles, grease, and other organic matter, which serve as an enticing food source for rodents.
Water availability

Drains provide a readily available water source, especially in dry periods, making them attractive to thirsty rodents.
Shelter and nesting opportunities

The dark and damp environment inside drains offers rodents a safe and comfortable place to build their nests.
What problems can rodents cause inside your drains?
Rats and rodents in your drains can do more than make your skin crawl. They can actually create various issues that you'll have to address:
Damaged plumbing

Rodents can gnaw through pipes and cause leaks, leading to water damage and potentially expensive repairs.
Blockages

Rodents may bring in debris to use as nesting materials, leading to drain clogs and subsequent wastewater backups.
Health risks

Rodents carry diseases and parasites, posing health hazards to humans and pets, especially through their urine, droppings, and fleas.
How to tell if there are rodents in your drains
There are a few telltale signs that rodents might be inside your drains. Of course, the clearest way to know for sure is to have a
CCTV drainage survey
which can capture footage of any rodents or nesting sites.
Unusual sounds

Scratching or scurrying noises coming from drains, particularly at night, may indicate rodent activity.
Foul odours

If there is a persistent foul smell emanating from your drains, it could be due to rodent nests or decaying matter.
Droppings and urine stains

Look for rodent droppings and dark stains around drain openings or nearby areas, indicating their regular presence.
Damage to pipes or wires

Rodents may gnaw on plumbing pipes or electrical wires, leaving visible marks or signs of damage.
Preventing rodents in drains with rat gates
Rat gates are an effective solution to prevent rodents from entering and residing in your drains. These create a one-way system so that water and waste can flow out but rodents can't enter. A professional plumber can install these at strategically vulnerable places, such as main drain exits and access points. These should be inspected periodically to ensure they are working correctly and aren't blocked by debris.
Additional prevention tips
Maintain a clean property

Regularly clean your drains, ensuring that no food particles or organic matter are left behind.
Secure garbage bins

Keep lids tightly sealed on outdoor bins to prevent rodents from accessing potential food sources.
Seal entry points

Seal any gaps or cracks in your property's exterior walls or foundation to block rodent entry.
Remove clutter

Eliminate clutter and vegetation near your property, as they provide hiding spots for rodents.
Preventing rodents in drains is crucial for maintaining a hygienic and efficient plumbing system. By understanding why rodents are attracted to drains you can effectively safeguard your drains from rodent infestations. Remember to seek professional help when dealing with plumbing or rodent-related issues, ensuring a safe and long-lasting solution. We'll be happy to help, just give us a call on
0204 579 2947
.