How to plumb in a dishwasher [a guide]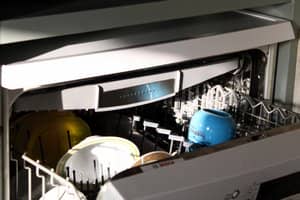 Whether you are moving into a new home, fitting a new kitchen, or replacing your existing appliances with a newer model, time is very often of the essence. With our guide, you could find yourself installing your new dishwasher efficiently and correctly.
How to disconnect your existing dishwasher
What you will need:
A towel
A bucket or large bowl
A spanner or a pair of pliers
A blanking disc or cap if you no longer have the original (available at your local DIY store)

Step 1

Shuffle your existing dishwasher out of its position carefully, switch it off at the socket, and remove the plug.

Step 2

Turn off your water supply and return to your dishwasher with a towel and bucket or large bowl.

Step 3

Remove the hose pipe connection from the rear of the machine. There may be some water remaining, so tip this carefully into the bucket or bowl.

Step 4

Using your spanner or pliers, carefully remove the hose connection from the wall and again empty any leftover water into your bucket or bowl.

Step 5

Remove the drain hose from your water source (most likely located under your sink).

Step 6

Place the blanking disc or cap into the water pipe to prevent any leaking.
How to plumb in your new dishwasher
Step 1

If you are installing a new appliance, ensure there is a water supply and drain nearby. If your water supply is still running, switch it off.

Step 2

Read over the appliance's manual. Whist our guide is thorough, your dishwasher may require an additional or alternative approach.

Step 3

Use the hose connection that comes with your new dishwasher to connect to your plumbing.

Step 4

Connect your dishwasher's wastewater pipe, otherwise known as the outlet hose, to the standpipe. It may feel like the connection isn't as secure this side, but it is natural for the pipe to only sit loosely in the pipe.

Step 5

Before you move your dishwasher into its permanent location, ensure that it is level. You can measure this with a spirit level and adjust each foot to raise it to the right position.

Step 6

Plug your new dishwasher in, shuffle it into place and turn on the water supply. At this stage, it would be recommended to run a test cycle, ensuring that everything is connected correctly.
Dishwasher installation FAQs
There are a handful of questions which we commonly get asked about dishwasher installation. If you can't see your question here, feel free to get in touch and ask us!
Q: Where can you install a dishwasher?
A: Freestanding and integrated models can be installed in locations with reliable connections to water and drainage.
Q: Does a dishwasher require hot and cold water connections?
A: No – dishwashers will only require a cold water connection.
Q: How long will it take to plumb in a dishwasher?
A: This depends on your make and model, whether you need to disconnect an existing dishwasher, and your ability to navigate the connections with ease.
If you don't feel confident removing an old appliance or installing a new one, or you find that you don't have the time to set aside to do so, you should always consult with a professional. With the correct skillset and health and safety knowledge, you can guarantee that it will be completed safely and correctly.
At Bromley Plumbers, our team of specialists are on hand to provide expert household plumbing support. With over 55 years of combined experience, you can depend on us. For any enquiries, or to book one of our plumbing services, get in touch. Give us a call on 0208 050 2707 or send us an email at info@bromleyplumbersltd.co.uk.