Improve your shower experience: expert tips to boost water pressure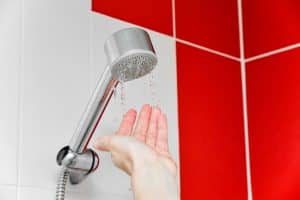 As an essential part of our daily routine, taking a shower is not only about cleanliness, but also about relaxation and rejuvenation. However, if you have low water pressure in your shower, it can be frustrating and make the experience less enjoyable. Fortunately, there are several tips that you can follow to improve your shower's water pressure. In this article, we will provide you with some expert tips on how to improve your shower's water pressure and make your daily shower experience more refreshing and enjoyable.
Check for any clogs or blockages in the showerhead
One of the most common reasons for low water pressure in the shower is a clogged or blocked showerhead. Over time, mineral deposits can build up in the showerhead, reducing the water flow. To fix this issue, you can remove the showerhead and soak it in a bowl of vinegar for several hours to dissolve the mineral deposits. Afterward, rinse it thoroughly and reinstall it. You can also use a toothbrush to scrub the showerhead's nozzles and remove any remaining debris.
Replace your showerhead with a high-pressure model
If your showerhead is old or outdated, it may not be designed to deliver high water pressure. In this case, you can consider upgrading to a high-pressure showerhead, which is specifically designed to deliver a more powerful spray. There are several types of high-pressure showerheads available on the market, including rain showerheads, handheld showerheads, and massage showerheads. Before purchasing a new showerhead, make sure to check its water flow rate, which is measured in gallons per minute (GPM), and ensure that it meets your needs and preferences.
Install a shower pump
If you have low water pressure throughout your home, including the shower, installing a shower pump can be an effective solution. A shower pump increases the water flow by boosting the pressure of the water supply, resulting in a stronger and more consistent shower spray. Shower pumps can be installed by a plumber and are available in different sizes and types, including single impeller and twin impeller pumps.
Check your plumbing system
Another reason for low water pressure in the shower could be due to problems in your plumbing system. If there is a leak, blockage, or other issue in your pipes, it can affect the water flow and result in low pressure. In this case, it's best to hire a professional plumber to inspect your plumbing system and fix any problems that they find.
Adjust the water pressure regulator
Most homes have a water pressure regulator installed near the main water line to regulate the water pressure throughout the house. If the regulator is set too low, it can cause low water pressure in the shower. You can adjust the regulator's setting by turning the adjustment screw clockwise to increase the pressure or counterclockwise to decrease it. Make sure to adjust the setting gradually to avoid damaging your plumbing system.
Clean your pipes
Over time, sediment and other debris can build up in your pipes, reducing the water flow and causing low water pressure. To clean your pipes, you can use a commercial pipe cleaning solution or make your own by mixing baking soda and vinegar. Pour the solution down the drain and let it sit for a few hours before flushing it with hot water. This will help remove any build-up and improve the water flow in your shower. In conclusion, improving your shower's water pressure can make a significant difference in your daily shower experience. By following these tips, you can increase the water flow and enjoy a more powerful and refreshing shower. Whether you choose to replace your showerhead, install a shower pump, or adjust your water pressure regulator, make sure to consult with a professional plumber to ensure that you choose the best solution for your needs and preferences.